VIP Mobile Detailing Memberships
Platinum VIP

Every month

1 Care Package Detail Per Month

1 Detail Per Month
Hand Wash & Hand Dry
Bug Removal
Wheels Cleaned
Tire Face Cleaned
Tires Dressed
Windows Cleaned Streak-Free
Quick Vacuum
Quick Wipe/Dust Interior Surfaces

Recommended

Diamond VIP

Every month

2 Care Package Details Per Month (Bi-Weekly)

2 Details Per Month
Hand Wash & Dry
Bug Removal
Wheels Cleaned
Tire Face Cleaned
Tires Dressed
Windows Cleaned Streak-Free
Quick Vacuum
Quick Wipe/Dust Interior Surfaces
Every Detail Performed by Global Mobil Detailing is reported to Car Fax!
Reinventing the

Car Wash Club
Everyone has heard of a car wash membership, you pay X dollars a month to run your vehicle through the automated car wash whenever it needs it. We are here to reinvent that idea! With the average car wash down the street their ultimate goal is not keeping your vehicle pristine and cared for, they don't mind using old and dated methods that end up doing more harm than good for your vehicle. With Global Mobile Detailing's VIP Club we offer the highest level of professional detailing with the most advanced products and procedures in the industry, ensuring you're vehicle gets the care it deserves, after all it is one of the biggest purchases in our life times!
When you take your vehicle through a automated car wash you run an extremely high risk of causing scratches, swirls, and marring to your paint which can only be taken out with a costly paint correction. The hand washing and cleaning methods we implore in our mobile detailing car wash insure your vehicle remains as scratch free as possible helping your vehicle retain it's value longer, after all vehicles are investments! On top of providing a more caring and careful approach to washing your vehicle we come to you! Whether you are at work or home we service your vehicle with minimal effort from you! Our simple and fast online booking process takes less than a few minutes to complete and you will be scheduled for your service! Sit back relax and have your vehicle maintained by the professionals who care for your vehicle as if it was their own wherever and whenever you'd like!
Frequently asked questions
What area's do we service?
---
We are locally based in New Smyrna Beach and service a wide variety of locations! -Deland -Deltona -Daytona Beach -Port Orange -Edgewater -Holy Hill -Lake Mary -Ormond Beach We never charge a travel fee, we come to you without all the headache of finding a car wash and hoping they care for your vehicle as much as you do!
---
What is the Benifit of having your car detailed with Global Mobile Detailing?
---
When taking your vehicle through an automated car wash you are opening up the possibility of seriously damaging the integrity of your vehicles paint, which can lead to the value dropping, the visual appeal decreasing, and inevitbale cost of fixing the damage. With out carefuly and meticulous approach to washing a vehicle you can know that we are treating your vehicle the way you would want it be treated! Our use of the two bucket wash method with the added precaution of grit guards to catch the lose contaminates so they are not spread across the paint increasing the likelyhood of scratches is one of the safest methods to washing a vehicle. Once washing the exterior of the vehicle we move in to the interior providing a cleaning process that no automated car wash will ever be able to do, cleaning every surface on the Dashboard, Steering Wheel, and Console and quikcly dusting off and excess dirt or dust througout the interior.
---
What kind of damage does a automated car wash do to my vehicle?
---
Automated car washes can do an extreme amount of damage to the exterior of a vehicle in a short amount of time. I know it is my job to tell you to never go to a car wash and make you come to us, but the risks are apparant. Even taking your vehicle through a car wash once brings on scratches, swirls, and marring that could have very easily been prevented. This video from a prominent auto detailing shop in Chicago shows the risk of taking your car through an automated car wash just one time!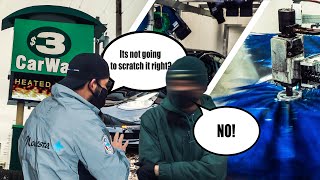 ---
Can I canel my VIP Membership?
---
Yes! There are no binding contracts or anything in place to prevent canceling a membership! If you need to cancel one month go ahead, and if you need it the next month just reactive your membership! If you have any additional questions please contact us in the form below!
---
How does it work?
---
When signing up for the VIP car wash membership, you get priority access to a detailing time frame! On the first day of each month you will be sent an email asking you to confirm a time slot or two depending on the package, once you confirm that slot is yours and no one can schedule then. If you need to cancel or reschedule you can do that as well by reach out to us either by email or by phone number!
---
---